Join us for conversations around Open Science, Research Integrity, Project Management, Scholarly Reading, Writing and Publishing as well as Career Development and gain new perspectives on each of the topics covered by our team and guests.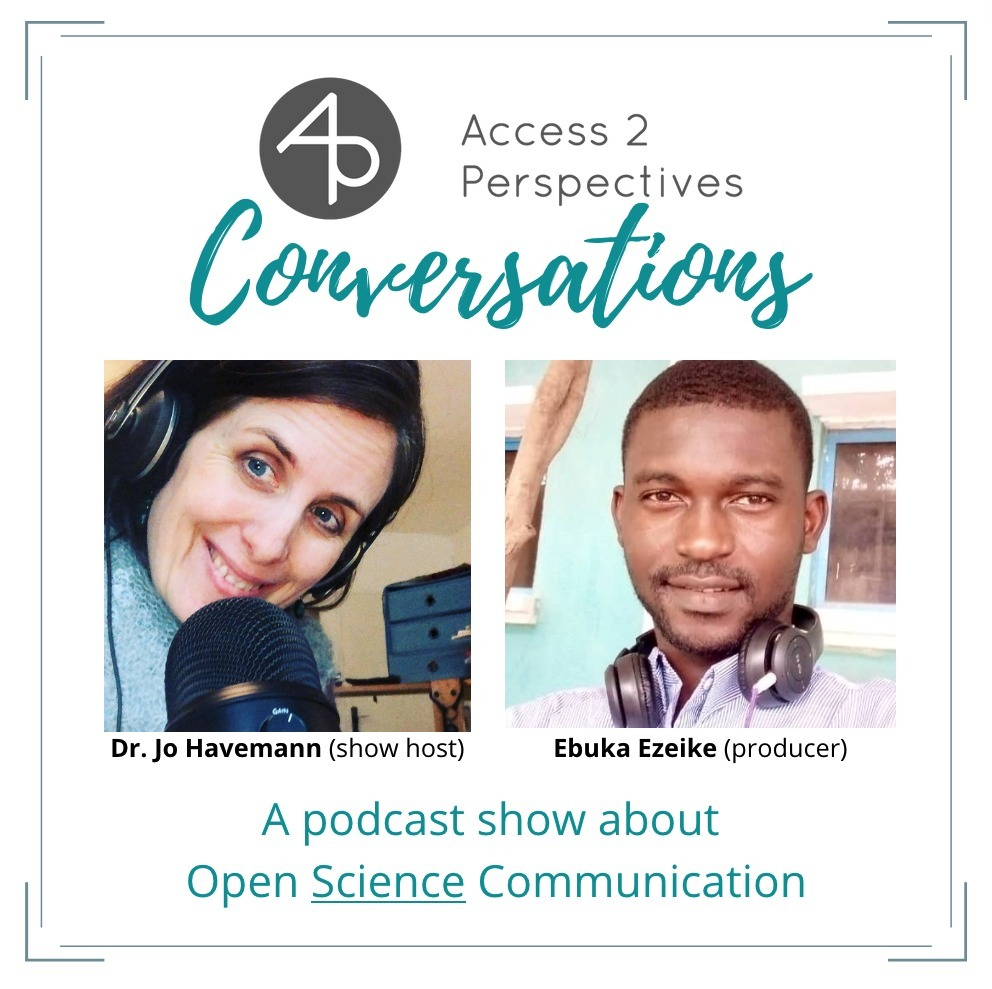 Access 2 Perspectives – Conversations. All about Open Science Communication
Bridging Academic landscapes.
At Access 2 Perspectives, we provide novel insights into the communication and management of Research. Our goal is to equip researchers with the skills and enthusiasm they need to pursue a successful and joyful career.
This podcast brings to you insights and conversations around the topics of Scholarly Reading, Writing and Publishing, Career Development inside and outside Academia, Research Project Management, Research Integrity, and Open Science.
Learn more about our work at https://access2perspectives.org
Scholarly and patent literature as a public good to inform problem-solving in Africa feat. The Lens
Mark Garlinghouse
Director, Business Development @The Lens
Mark Garlinghouse is responsible for business development at The Lens. He joined The Lens in 2019 to support its transition to financial sustainability. Mark has over 25 years of experience in the information industry, working with Information Handling Services (now S&P Global Engineering Solution) and the Institute for Scientific Information/Thomson Reuters (now Clarivate) in various business development and leadership roles.
Aaron Ballagh
Manager, Scholarly Content @The Lens
Aaron is the Scholarly Content Manager for The Lens. Starting his career in fisheries research, Aaron moved into research information management when he joined the Research Services team at James Cook University as a research data and systems analyst. He then joined the Research Services Division at The Australian National University working on the university's research information systems to analyze and model research performance. As research data manager, Aaron submitted the Excellence in Research for Australia submission for ANU before joining Springer Nature as data product manager for the Nature Index.
About the webinar series
This webinar series is co-organised by:
UbuntuNet Alliance: https://ubuntunet.net/ and
Access 2 Perspectives: https://access2perspectives.org/
as part of the
ORCID Global Participation Program: https://info.orcid.org/global-participation-program/
The Global Participation Fund: https://info.orcid.org/global-participation-program/global-participation-fund/
Learn more about ORCID: https://orcid.org/
Link to the webinar series: https://africarxiv.pubpub.org/webinars
AfricArXiv website: africarxiv.org
⁠ORCID⁠ is the persistent identifier for researchers to share their accomplishments (research articles, data, etc with funding agencies, publishers, data repositories, and other research workflows.
⁠AfricArXiv⁠ is a community-led digital archive for African research communication. By enhancing the visibility of African research, we enable discoverability and collaboration opportunities for African scientists on the continent as well as globally.
Find more podcast episodes here: ⁠⁠⁠⁠⁠⁠⁠⁠⁠⁠https://access2perspectives.pubpub.org/podcast⁠⁠⁠⁠⁠⁠⁠
Host:⁠⁠⁠⁠⁠⁠⁠⁠⁠⁠ Dr Jo Havemann⁠⁠⁠⁠⁠⁠⁠⁠⁠⁠, ORCID iD ⁠⁠⁠⁠⁠⁠⁠⁠⁠⁠0000-0002-6157-1494 ⁠⁠⁠⁠⁠⁠⁠⁠⁠⁠
Editing: ⁠⁠⁠⁠⁠⁠⁠⁠⁠⁠Ebuka Ezeike⁠⁠⁠⁠⁠⁠⁠⁠⁠⁠
Music:⁠⁠⁠⁠⁠⁠⁠⁠⁠⁠ Alex Lustig⁠⁠⁠⁠⁠⁠⁠⁠⁠⁠, produced by⁠⁠⁠⁠⁠⁠⁠⁠⁠⁠ Kitty Kat ⁠⁠⁠⁠⁠⁠⁠⁠⁠⁠
License:⁠⁠⁠⁠⁠⁠⁠⁠⁠⁠ Attribution 4.0 International (CC BY 4.0)   ⁠⁠⁠⁠⁠⁠⁠⁠⁠⁠
At Access 2 Perspectives, we guide you in your complete research workflow toward state-of-the-art research practices and in full compliance with funding and publishing requirements. Leverage your research projects to higher efficiency and increased collaboration opportunities while fostering your explorative spirit and joy.
Website: ⁠⁠⁠⁠⁠⁠⁠⁠⁠⁠https://access2perspectives.pubpub.org⁠⁠⁠⁠⁠⁠⁠
—
Send in a voice message: https://podcasters.spotify.com/pod/show/access2perspectives/message
You can support our work with this podcast with a one-time or recurring contribution to cover production costs (audio editing, transcription, publishing, dissemination) as well as reimbursements for speakers and facilitators.
Listen on any of the following platforms:
Released episodes
To read all podcast episode features and transcripts go to https://access2perspectives.pubpub.org/podcast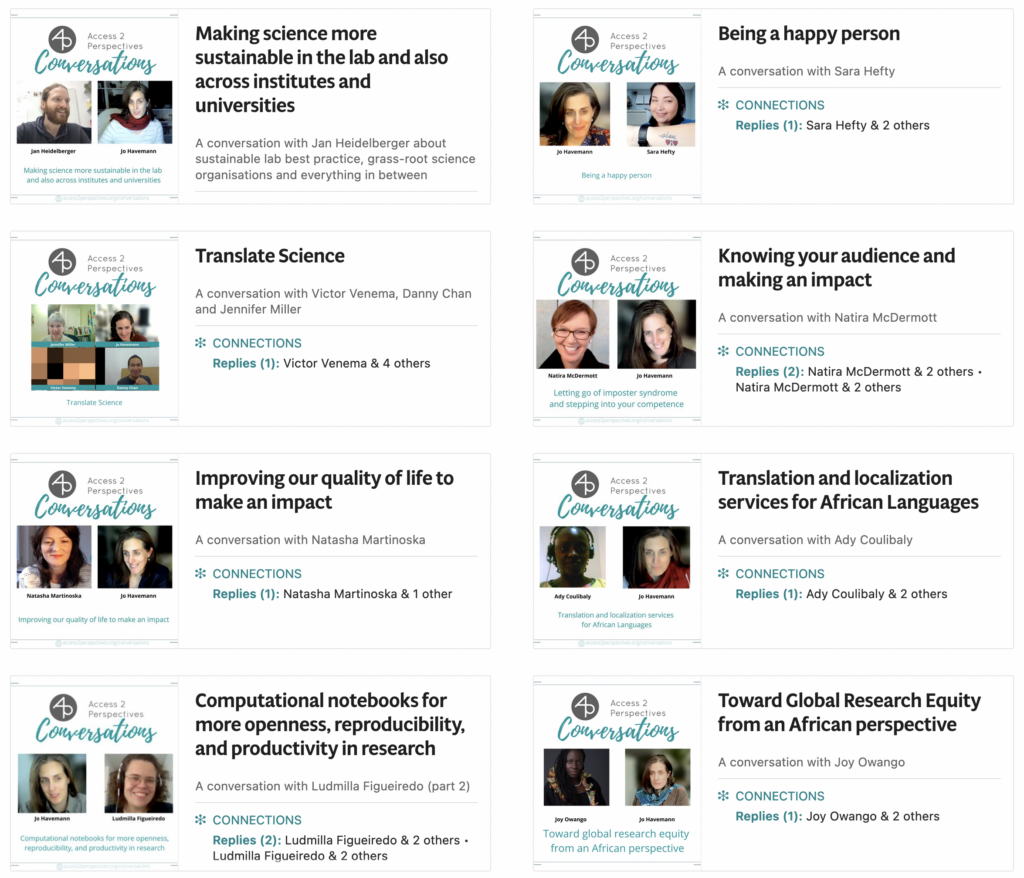 Would you like to share your perspective on a research topic, Open Science, and/or Science Communication?
Get in touch to suggest your topic; we will be happy to hear from you.