For details and inquiries send an email to info@access2perspectives.org.
Consulting & Coaching
Open up your research workflow, from scholarly literature search, and methodology to dissemination of your results.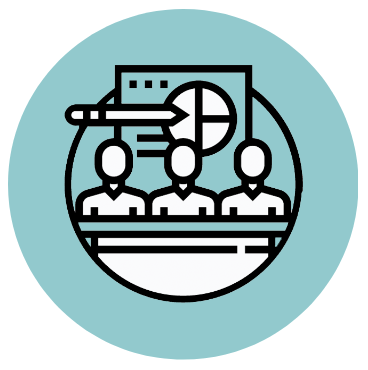 Workshops & training
All topics are backed by real examples and relate to the participants' research projects and disciplines.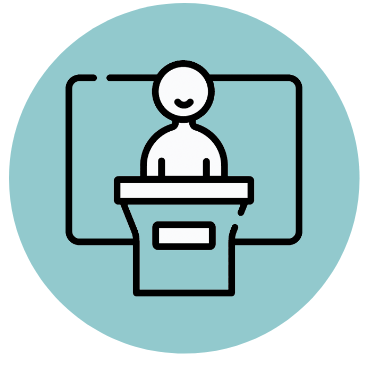 Speeches, talks & seminars
We present all our course topics and projects in a talk, seminars, and in our online academy.
Open Science
Open Access, Open Data, Open Source Hardware and Software, Open Methodology, Open Peer Review, Open Educational Resources (OER), Knowledge Transfer
Reading Writing Publishing
Strategic Reading, Scholarly Writing, Peer Review, Scholarly Publishing, Visual Communication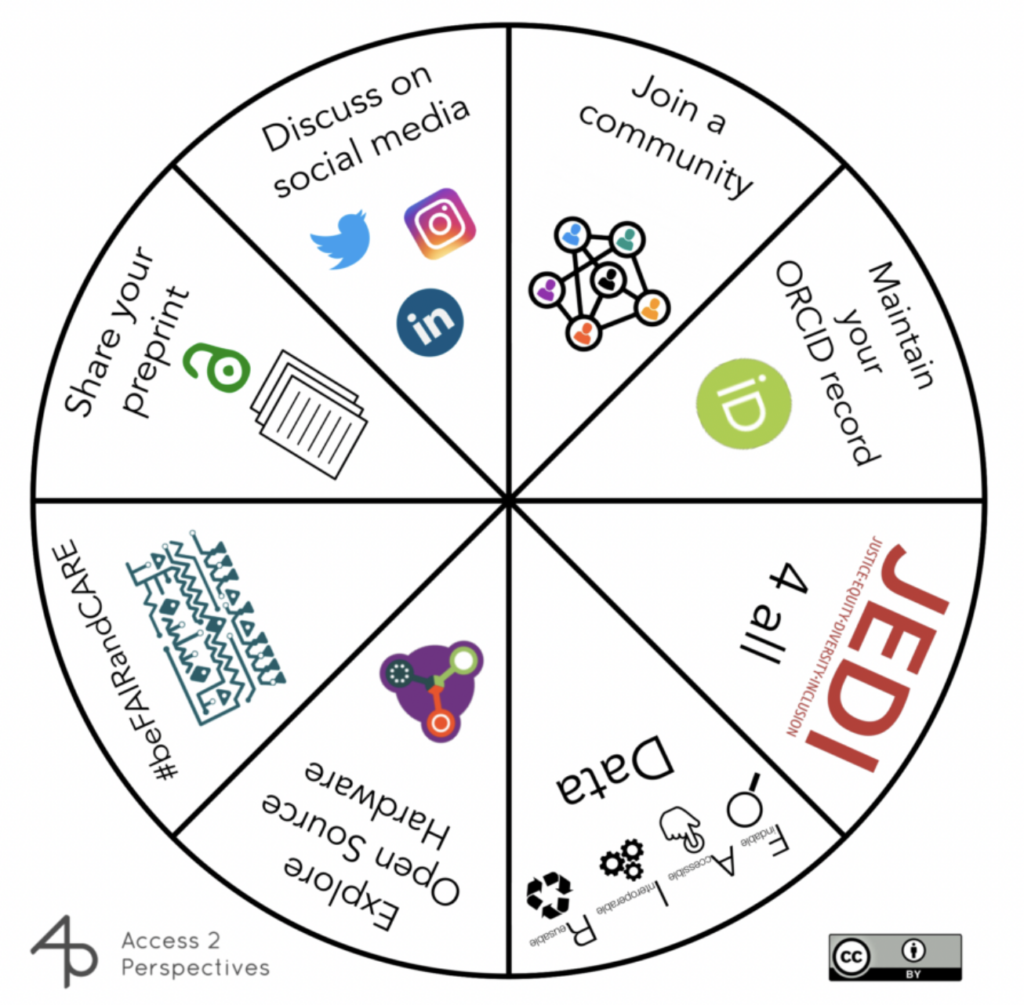 Project Management
Agile & Lean Approaches, FAIR Data Management, CARE Principles, Digital Tools for Research
Career Development
Reputation Building, Presentation Techniques, Multilingualism, Transferable Skills
Research Integrity
Epistemology, Ethics, Responsible Research & Innovation (RRI), Animal Welfare, Sustainability
Consulting & Mentoring
Let's design a strategic approach toward Open Science practices in your research department.
Many of our team members have thorough experience in all aspects of Open Science and responsible research and can assist you in developing best practices and approaches specific to your research context and discipline.
Expertise, the A2P team can provide
Providing insights on relevant stakeholders to engage with; based on region- and discipline-specific research topics covering various African countries, Latin America, South East Asia, and the MENA region; across the related sectors of Higher Education (HE), Research & Development (R&D) and Research and Innovation (R&I)
Identify (African) researchers in a specific field for knowledge exchange on a certain topic
Sensitize Berlin-based research teams on the region-specific context, including legal and policy-relevant requirements, cultural and ethical aspects
Recommendations on feasible digital communication tools, protocols, and practices to establish and keep communication up and running throughout a project (range of digital infrastructure, connectivity, expectation management)
Specific and customized capacity building and training where gaps are identified in soft skills that are key for science communication and open/good scientific practices and capacities
Open Science Hardware training and consulting for affordable and locally adaptable research equipment
Training and consulting in Scholarly Communication and best practices in Research Discovery processes
Knowledge transfer across sectors from Academia
Developing and implementing Mentoring and Train the Trainer programs around Open Scholarly Communication, Research project management, FAIR data management that works for groups of researchers in the respective world region, incl. considerations and recommendations of which digital tools to employ for seamless communication and workflows
Workshops & Trainings
Our courses are geared towards adult learning with participatory approaches.
Participants are encouraged to share their own experiences and knowledge on the topic during discussions, debates, and group work.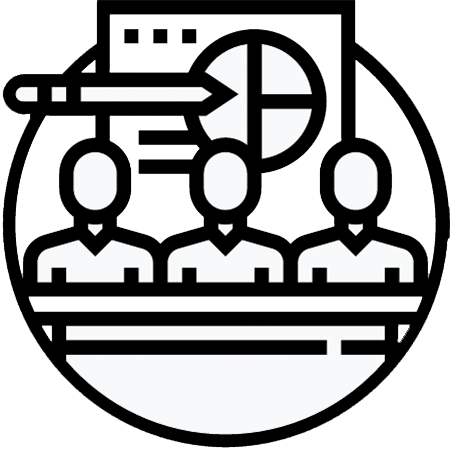 Methodology
Before or at the beginning of the course, participants share their specific questions and expectations; the course content will be adjusted to their specific needs and requirements.
Participants are handed out reading material to be discussed during the course as well as afterward a course summary with their achievements.
Our courses can be conducted online (video conferencing) or onsite on customized timelines.
Group discussions
Exchange of experiences and best practices
Group work, individual work
BYOD (bring your own device) – participants use their own laptops
Talks & seminars
All course topics and projects can be presented in a talk or seminar for bigger audiences.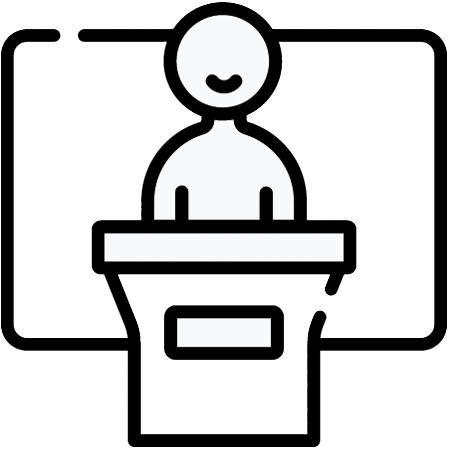 Archive
Open Science
What role can Open Science play in enabling South-North dialogues?
Dec 06, 2019 at the UCT-SPARC Africa Symposium in South Africa // doi: 10.5281/zenodo.3582039
Oct 24, 2019 at e-Learning Africa, Abidjan, Cote d'Ivoire // doi: 10.31730/osf.io/5hvgx
Mar 19, 2019 at Open Science Conference, Berlin, Germany // doi.org/10.5281/zenodo.2599569
A Case for Open Science Hardware.
Feb 2019 // doi.org/10.5281/zenodo.2564076
Does Open Access benefit African Scientists?
Apr 29, 2015 at the Berlin Open Access Roundtable, Germany
Research Integrity
How maker culture and Open Science advance innovation processes in Africa
Aug 18, 2017 at the Institute for Cultural Diplomacy, Berlin, Germany
Reading Writing, Publishing
Scientific Writing that fulfills reader expectations
Jul 13, 2016 at the University of Bayreuth, Germany
Career Development
Digital Reputation Building and Online Communication in Science.
Feb 2019 // doi.org/10.5281/zenodo.2564074 (2019, February)
Career Transition Day: Career Networking
Nov 11, 2017 at the Dahlem Research School, Berlin, Germany
Introduction to the PhD Career Stories podcast
Sep 02, 2017 at the Max Planck Symposium for Alumni and Early Career Researchers, Berlin, Germany
PR für die Wissenschaft – wie mache ich meine Expertise sichtbar?
Jul 18, 2017 at the European University Viadrina in Frankfurt/Oder, Germany
Scholarly Text Editing
Proofreading & Editing of academic and scientific documents.
Dissertations, theses & presentations
Scientific manuscripts
Calls for papers and job applications
Research proposals
Laboratory reports & project summaries
Conference announcements & schedules
Brochures, posters and flyers