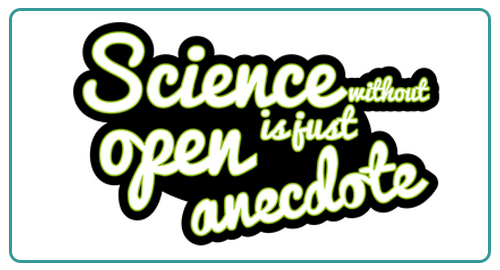 Open Science is nothing more and nothing less than a compendium of region- and discipline-specific aspects of Good Scientific Practices (GSP) in the digital age and goes back to practices postulated in the 17th century. Its principles include and range from Open Educational Resources (OER), Open Access (OA), Open Peer Review, Open Source, Open Methodology to Open Data. To ensure scientific processes and results are well documented and accessible is at the core of Open Science. 
In order to identify what it takes for your research procedures and results to be shared and applied openly, we will discuss options and possibilities of Findable, Accessible, Interoperable, and Reusable (FAIR) data management as well as aspects and principles of Open Access, Open Data Management (ODM) and exchange best practices how to communicate the utilized list of reagents and equipment.
Objectives
Learn about Open Science practices
How to Make your Research workflow FAIR (findable, accessible, interoperable, reusable)
Course duration: 1 day or 2 consecutive days
Number of participants: 8-12
The course can be aligned to your requirements regarding duration, form and content at info@access2perspectives.org.
Course content
Historic overview, context, and its relevance today
Open Science principles and resources
A brief introduction to Open Access, Open Data, Open Source Hardware
Overview of commonly used Digital Open Science Tools (DOSTs)
Guidelines and incentives for Open Science by national and international science authorities (European Commission, DFG, NSF, etc.)
Comparative investigation of guidelines and incentives for Open Science by publishers
References
English
Rahal, R.-M., & Havemann, J. (2019). Science in Crisis. Is Open Science the Solution? osf.io/preprints/metaarxiv/3hb6g
Gilbert E & Colbert K (2017). Research transparency: 5 questions about open science answered. theconversation.com
Open Science Collaboration (2015). Estimating the Reproducibility of Psychological Science. Science, 349(6251).: 10.1126/science.aac4716
German
de.wikibooks.org/wiki/Handbuch_Open_Science – Wikimedia Germany
Rahal, R.-M., & Havemann, J. (2019). Wissenschaft in der Krise – Ist Open Science die Lösung? bdwi.de/forum/archiv/archiv/10732812.html
Resources & initiatives
Selected links to resources for scientific projects that are open and affordable.
A magnitude of online resources is available on Open Science which we try and condense here based on factors like people in our network who contribute or established international services. Contact us in case you think we should add something.
Berlin call to action for Open Science – Recommendations to research institutions
European Commission Open Science resources and incentives
FOSTER is an e-learning platform that brings together training resources addressed to those who need to know more about Open Science, or need to develop strategies and skills for implementing Open Science practices in their daily workflows.
Invest in Open Infrastructure (IOI) – An effort to enable durable, scalable, and long lasting open scientific and scholarly infrastructure to emerge, thrive, and deliver its benefits on a global scale.
Knowledge Exchange (KE) is a partnership program of six key national organisations within Europe who share a clear vision that scholarship should be open: CSC in Finland, CNRS in France, DEFF in Denmark, DFG in Germany, Jisc in the UK and SURF in the Netherlands. KE supports the development of digital infrastructures to enable open scholarship, informs national and international policies and promotes common approaches so that it becomes easier for scholarship to cross national boundaries.
Open Science Knowledge Base is an annotated collection of practical resources for researchers interested in using open practices.
Open Science MOOC is designed for students and researchers to learn skills to help them excel in a modern research environment.
Projet SOHA – Open Science as a tool for empowerment and cognitive justice in Haiti and Francophone Africa
SPARC is a global coalition committed to making Open the default for research and education. SPARC empowers people to solve big problems and make new discoveries through the adoption of policies and practices that advance Open Access, Open Data, and Open Education.
The world of open science is a monadic exploration by Mark Hooper.
The Right to Research Coalition was founded by students in the summer of 2009 to promote an open scholarly publishing system based on the belief that no student should be denied access to the articles they need because their institution cannot afford the often high cost of access. Since its launch, the Coalition has grown to represent about 7 million students internationally.
The Open and Collaborative Science in Development Network (OCSDNet) is composed of twelve researcher-practitioner teams from the Global South interested in understanding the role of openness and collaboration in science as a transformative tool for development thinking and practice.
Open Access
Free Our Knowledge is a campaign to grow a community of academics who pledge to exclusively support journals that comply with various open-access principles. Crucially, pledges will only become active when the academic community has demonstrated a pre-specified threshold of support (selected by the individual), with names anonymised until this time, allowing individuals to show their support without risking their livelihoods.
OpenAIRE is a collaborative European effort that works to further establish Open Access for the benefit of innovation, industry and society.
Deutsche ForschungsGemeinschaft (DFG – en: German Research Foundation) works closely with partners in Germany, Europe and the rest of the world. As part of the Digital Information Alliance Initiative, the DFG is supporting the introduction of an inalienable second publication right. Through organisations and networks such as Knowledge Exchange, Science Europe and the Global Research Council, the DFG is also working at European and international level to influence the transformation of academic publishing from a subscription-based to an open-access model.
OA Publishing
DOAJ is an online directory that indexes and provides access to quality open access, peer-reviewed journals.
The Open Access Scholarly Publishers Association (OASPA) is a trade association that represents the interests of Open Access (OA) publishers globally in all scientific, technical and scholarly disciplines.
Paperity is a multidisciplinary aggregator of Open Access journals and papers. Connecting authors with readers, boosting dissemination of new discoveries, consolidating academia around open literature.
OA digital archives and pre-print services
arXiv – Physics, Mathematics, Computer Science, Quantitative Biology, Quantitative Finance, Statistics, Electrical Engineering, Systems Science, Economics
bioRxiv &ASAPbio – Life Sciences; AgriXiv – Agriculture and allied sciences; ChemRxiv – Chemistry and related areas; PaleorXiv – Paleontology research; engrXiv – Engineering; PsyArXiv – Psychological research
SocArXiv – Social Sciences
Sholarly Sharing
How Can I Share It allows you to identify relevant information and practical tools to ensure your articles can be shared with your colleagues quickly and easily.
Open Data
Dataverse is an open source web application to share, preserve, cite, explore, and analyze research data. It facilitates making data available to others, and allows you to replicate others' work more easily. Researchers, data authors, publishers, data distributors, and affiliated institutions all receive academic credit and web visibility.
Dryad is a curated general-purpose repository that makes the data underlying scientific publications discoverable, freely reusable, and citable. Dryad has integrated data submission for a growing list of journals; submission of data from other publications is also welcome.
figshare and zenodo are repositories where users can make all of their research outputs available in a citable, shareable and discoverable manner.
Grafoscopio is a moldable tool for interactive documentation and data visualization, that is being used in citizen, garage & open science, reproducible research, (h)ac(k)tivism, open & community innovation, domain specific visualization and data journalism, and has a lot of other potential uses.
LODUM is the University of Münster's Open Data initiative. We make any public information about the university available in machine-readable formats for easy access and reuse. By opening and cross-referencing data from different information systems, LODUM provides a one-stop shop for any data about the University of Münster.
Open data essentials is the Open Data Institute's e-Learning programme developed for the European Commission. This programme has been designed to enable you to discover what open data is and how it is changing the lives of everyone on our planet. There are 13 lessons for you to explore covering the essentials of open data, how to plan and measure success and how to implement an open data programme technically. This programme is free and should take a maximum of 2-3 hours to complete.
Open Science Data Cloud (OSDC) provides the scientific community with resources for storing, sharing, and analyzing terabyte and petabyte-scale scientific datasets.
Reagents & Equipment
SynTechBio – Biohacker Spaces Network – supports Biohacking and DIY-Bio initiatives in the global south, enhancing the communication and action of the worldwide community as a group.
OpenWetWare is an effort to promote the sharing of information, know-how, and wisdom among researchers and groups who are working in biology & biological engineering.
Seeding Labs enables scientists with limited resources to conduct high quality research through their flagship program Instrumental Access.
Addgene is a global, nonprofit repository that was created to help scientists share plasmids.Their goal is to make research tools available to the entire scientific community. If your laboratory cannot afford the standard prices, Addgene can help defray this cost. This policy exists to enable the distribution of materials to underfunded labs (e.g. in the Global South). If you believe your lab qualifies, please email Addgene at help@addgene.org with a brief explanation of your financial situation.
The Reagent Project democratizes Science by collecting donated lab materials from wealthy labs and redistributing those items to scientists and educators with limited resources.
Gathering for Open Science Hardware (GOSH) is a diverse, global community working to enhance the sharing of open, scientific technologies. The GOSH movement seeks to reduce barriers between diverse creators and users of scientific tools to support the pursuit and growth of knowledge. Read the GOSH Manifesto.
AfricaOSH is a gathering for everyone interested in Open Science Hardware as a means to achieve locally adapted, culturally relevant, technologically and economically feasible production in Africa.
Research Disciplines
Biology
OpenNeuroscience promotes free, mostly open source projects that can be used for scientific projects. Provided by neuroscientist André Maia Chagas, most of the projects have neuroscience oriented examples & ideas, but can also be adapted to any other area of science.
OpenPlant is a group of people sharing the philosophy of open plant science. It all started with some DIY-projects run by PhD students at the plant sciences department at the Technical University of Munich. Coincidence brought some like-minded people together and led to the outset of collaboration. They aimed at convincing our supervisors of the importance of open science.
Chemistry
The Beilstein-Institute supports open science and makes the results of its projects freely available to the scientific community as open access publications. This is an essential contribution to the foundation's mission to advance the chemical and related sciences. All journal articles, conference proceedings and videos are open access to allow the worldwide, unhindered sharing and exchange of ideas. This allows scientists, students, educators and the public the opportunity to inform themselves of the latest developments in research and to build on these ideas to further advance scientific knowledge.