National University Entrepreneurship Ecosystem Baseline Study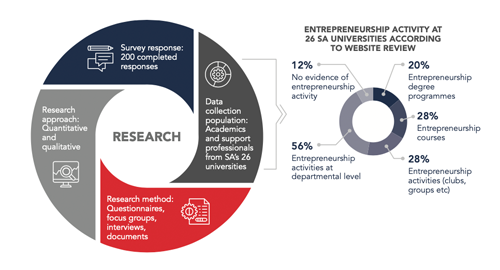 Pivot Global Education was commissioned by the Universities South Africa's Entrepreneurship Development in Higher Education along with the Department of Higher Education and Training (South Africa) to assess and map the development of entrepreneurship throughout the country's public universities by evaluating structures, supports, delivery and successes in entrepreneurship development.
The project's aim was to provide a baseline overview of the status of entrepreneurship development across the government-sponsored higher education landscape in South Africa. Included in this was a desire for the project to inform the professional development of executive leaders of South African higher education institutions and develop policy recommendations to support an enabling environment for the development of university entrepreneurial strategies to inspire universities to become more entrepreneurial.
The report, launched nationally in February 2020, was used as an introduction to policy piece to build greater understanding of the future of education in relation to skills development and the future of work in the country. It demonstrated the need for a more collaborative effort nationally around how South African universities must take the lead in engaging student, staff and faculty on the changing landscape of higher education to meet the needs of future learners and employers.
Read the report
Achampong J., Hill, C. and Yiannakaris, E. National University Entrepreneurship Ecosystem Baseline Study in South African public universities. Pivot Global Education Consulting Group Ltd, February 2020 (view online)