Open Source software and tools for better research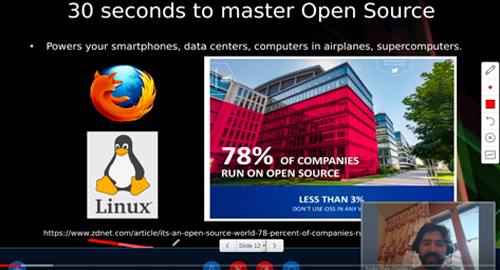 The first webinar of the Open Science MOOC focused on Module 5: Open Research Software and Open Source and was pesented by our team colleague André Maia Chagas.
View the slides of this presentation at zenodo.org/record/3242340
Cite as: Maia Chagas, Andre. (2019, June). Bringing science to the 21st Century: Open Source tools for better research. Zenodo. http://doi.org/10.5281/zenodo.3242340
Online Course
Take the free Open Science MOOC online course: Module 5: Open Research Software and Open Source.
Resources and key takeaways
Why we need Open Source in Science
– REF: Ziemann,  M., Eren Y., El-Osta A. (2016). Gene name errors are widespread in the scientific literature.Genome Biology201617:177. doi.org/10.1186/s13059-016-1044-7
Abstract: The spreadsheet software Microsoft Excel, when used with default settings, is known to convert gene names to dates and floating-point numbers. A programmatic scan of leading genomics journals reveals that approximately one-fifth of papers with supplementary Excel gene lists contain erroneous gene name conversions.
– REF: Collins, K. (2015). Why researchers keep citing retracted papers.
qz.com/583497/…/
Retraction Watch
released a list
 of the retracted research papers with the most citations, and many of the citations came after those papers were pulled.
30 seconds to master Open Source
Everything (code, hardware design, protocols, cake recipes) created is shared freely via licenses (GNU, Creative Commons, OSHWA, and many other), using any means at hand (Internet, usb sticks, recipe notebook)
We've always done it. Now we just have a fancy name for it and metrics so that all projects follow a certain standard.
Powers your smartphones, data centers, computers in airplanes, supercomputers
– REF: Vaughan-Nichols, S.J. (2015). It's an open-source world: 78 percent of companies run open-source software. zdnet.com/article/…/
Open Science software
Project Jupyter exists to develop open-source software, open-standards, and services for interactive computing across dozens of programming languages. // The Jupyter Notebook is an open-source web application that allows you to create and share documents that contain live code, equations, visualizations and narrative text. Uses include: data cleaning and transformation, numerical simulation, statistical modeling, data visualization, machine learning, and much more.
Binder – Turn a Git repo into a collection of interactive notebooks
Search for Open Source Software in your discipline
– Many tutorials online
– Reach out to developers – they will be super happy to answer your questions
– Open Science MOOC Module 5 resources
– Openscapes – mentorship program to empower scientists with open data science tools
GOSH
Join the forum:  https://forum.openhardware.science/