An introduction to #OpenScience embedded into the larger Open movement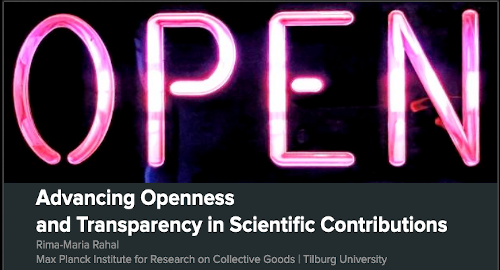 Our team member Rima Maria Rahal was invited by Rebecca Johnson and Rachel Taylor from Glasgow ReproducibiliTea, watch here the recording of her presentation.
'Science in Crisis? Open Science as a Reform Movement'
Open Science has become a buzzword for recent meta-scientific developments, which are beginning to change what is considered state-of-the-art scientific practice. In an overview of these developments, Rima will introduce the concept of the Replication Crisis, showcasing empirical evidence and debates in the research community revolving around the question whether non-open research practices enable robust insights or whether they obstruct the process of scientific discovery. Further, Rima will outline broad areas in which research practices are now changing, introducing the concept of the Credibility Revolution and the embeddedness of Open Science in the larger Open movement, discussing its status quo and its facets (e.g., Open Access, Open Hardware, Open Educational Resources). Finally, this session will touch on the promise of Open for individual researchers' own work, introducing opportunities to make our work more open.
The slides are available on the Open Science Framework at https://osf.io/tmv5x/