TEDxRuhrUniversityBochum: Building a Better World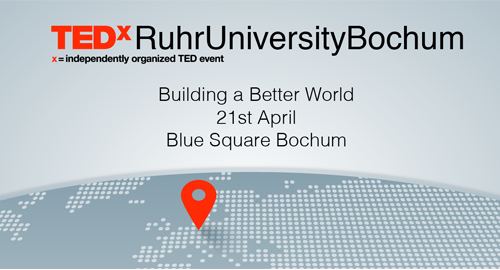 In April this year, the following 10 changemakers gathered at Ruhr University for TEDxRuhrUniversityBochum:
(1) Ganesh Muren presenting his social enterprise Saora Insustries, which delivers a solution for sustainable, affordable and environment-friendly drinking water.
(2) Jakob Schoen had a vision of a volunteer maritime salvage back in 2015, when he heard about the many deaths of people trying to cross the Mediterranean Sea and co-founded Jugend Rettet which owns the boat JUVENTA and has already saved more than 2000 lives.
(3) Charlotte Frey, is a co-founder of CLIMB wich develops new approaches to teaching children and adults in Germany. She explained how schools can drive innovation on a personal and public level by recognising the abilities and potential of children, institutions and ourselves.
(4) Simon Ebbinghaus is a researcher from the RESOLV Cluster of Excellence and told a story about recent research's discoveries by exploring protein folding, misfolding and aggregation directly in cells.
(5) Ruth-Anne Damm discussed the Importance of Preserving Memories and how the lessons from the past can be passed on to future generations. She is one of the founders of Heimatsucher e.V., a society that preserves the personal experiences of holocaust survivors and passes those on to the youth.
(6) Clara Saraceno's research focuses on pushing ultrafast laser technology to new limits for new applications; watch her talk to find out why.
(7) Laura Klimecki taught the audience how our body language directly affects others in our daily lives and that face to face communication can be a key to connect again.
(8) Tobias Hübner is a blogger and trainer at Codingschule Düsseldorf, a school that teaches programming skills to kids and adolescents by focussing on Raspberry Pi, Scratch and Python. He proved that learning coding skills can be gamified to make it cool.
(9) Florian Schild is conducting research on high-level artificial intelligence projects for Siemens and the German air force. He asked whether artificial intelligence can help us build a better world.
(10) Christian Zenger is the CEO of PHYSEC GmbH and passionate hacker for digital security. He develops security and privacy solutions for the Internet of Things (IoT) ecosystem.
Watch all 10 presentations or choose one or the other:
References
Official Website: tedxruhruniversity.de
Photo gallery: flickr.com/photos/…
Facebook page: /TEDxRuhrUniversityBochum
Hochschule Bochum, (April 2017), TEDx-Konferenz "Building a Better World" im Blue Square. hochschule-bochum.de (German)
Römer R, (März 2017), Junge Denker tauschen sich aus. news.rub.de (German)
Damm RA, (April 2017), Rudi präsentiert HEIMATSUCHER beim TEDx-Talk. heimatsucher.de
Ruhr A, (April 2017), RUB-Studenten organisieren spezielle Forschungsgespräche. waz.de