re:publica 18 session – Towards Lab Equipment as a Common Good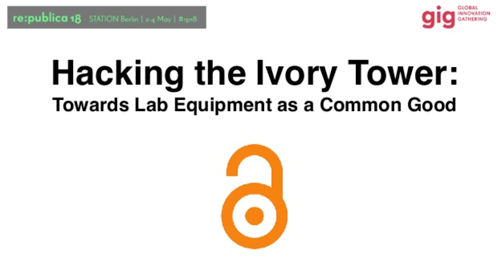 At this year's re:publica, we had a session on Open Science Hardware. Our focus was on hardware and software solutions, tools and services, resources and projects that adopt the Open Source approach and have one goal: to increase access to scientific research. Initiatives and visionaries around the globe are putting this into action in different regional contexts, some of whom discussed their insights, practical knowledge and experience.
Short thesis
The idea of Open Science is to enable more people to make valuable contributions to scientific research and develop solutions collectively, especially in low-resource settings. Due to pricey lab equipment much research output has been restricted to a few highly funded laboratories. In countries like Egypt and Cameroon, innovators and scientists are fixing, hacking and recreating tools using digital fabrication. Discuss with us Open Science Hardware and laboratory equipment as a common good.
The panelists
Thomas Hervé Mboa Nkoudou from APSOHA (Association for the Promotion of Open Science in Haiti & Africa)
Jenny Molloy, Co-organiser of GOSH (Gathering for Open Science Hardware)
Tarek Omar, Director of Cairo Hackerspace
Lucy Patterson, Co-organiser of the Science Hack Day Berlin
Jo Havemann – Moderator
Topics we discussed
The GOSH Roadmap – Making Open Science Hardware ubiquitous by 2025
Science should be for/serve/open to everyone. It should not just be defined and carried out by western academic elites and instead be part of wider open movement
Working with science outside of (western) institutions is about: 1) appropriating equipment and practices in a local frugal context (hacking) and; 2) also building community, sharing knowledge, and creating a different kind of scientific culture (open, equitable, interdisciplinary and co-created).
European and US context has parallels with wider global situation, but also differences.
We need to be aware of institutions co-opting methodologies from hacker culture (hackathons, open innovation, citizen science) whilst they remain elitist.
Key questions raised
Open licensing is necessary but insufficient. How do we make open tools useful?
Narrative matters in policy. How do we counter a prevailing anti-open narrative in scientific (biological) innovation?
What can science learn from hacker culture, which methods and principles can be shared?
What impact would this kind of junction have on individual academics?
How can digital tools help the global scientific community to promote the growth of knowledge worldwide?
Click through the slides
---
After the session, Thomas Mboa and Jenny were interviewed by Vitória Tuzza and Lorenzo Cervantes for Shifted News – originally published on the re:publica website.
Among the many benefits that technology brings to contemporary society, the possibility to share knowledge and to improve education might be the noblest one. Even more when it comes to curing diseases, enhancing treatments and conducting researches. The fight to bring accessibility to high priced technology into developing countries involves hacking and recreation of tools. Thomas Hervé Mboa Nkoudou, from Cameroon, is a Ph.D. student in Public Communication at Université Laval (Canada). During the panel 'Hacking the Ivory Tower: Towards Lab Equipment as a Common Good', along with Jenny Molloy, Tarek Omar, and Lucy Patterson he discussed future possibilities for shared knowledge, biohacking and, accessibility. We had the chance to talk to Thomas Hervé and dive a bit more into the topic.
You've mentioned that as a researcher, technical equipment is quite expensive and inaccessible. How would the collaboration that you're advocating for improve this?
We used the image of the Ivory Tower because to collaborate with different entities in our field is inaccessible to us. The idea would be to open a bilateral channel of communication: it's not only about countries but also about people and tools. As an African researcher, it's highly important for me to be able to communicate with other researchers to share my research carried out in Africa, that other regions of the world don't even get to hear. The advantage is: now we have the internet, and we can switch easily between what is material and immaterial when we produce a content.
From your point of view, what are the main obstacles that a researcher has to face in emerging countries?
There are obstacles can be presented in two different levels: one the academic field remains traditional and innovation there is slow. This part lacks the needed support because the decision-makers are inflexible, and this attitude is anchored in their minds. The second obstacle is that there is a struggle at the economic level: the "open" movement (with hacking among other things) has made the design and 3D printing accessible, so we can build cheaper equipment. In terms of regulations, there are barriers that disable this movement. Several biohackers create prototypes that do not manage to reach universities: we usually discredit DIY (do-it-yourself) equipment, in favor of equipment that is already on the market, and it is holding us back.
So where can we start and how do we finally "hack" this Ivory Tower?
We are running out of breath in this fight, it's an uphill battle: there is a long-term strategy, that is to reshape education, which takes a lot of time and is specific to every country. Then, there is the political, the mid-term objective. Politicians need to realize that there are many advantages that go with backing open-source movements. We need to support and to listen to the people who go in that direction. The consequences could mean a lot to us: for example, having a Raspberry PI kit, it might be easy here in Germany, but in Africa the cost will be multiplied by 8 or 10 sometimes. This is why we need to promote regulations that are sensitive to this movement, and we need to give hackers enough space so that they can express themselves.
---
Featuring Global Innovation Gathering, re:publica
Add your own projects, thoughts, questions and experiences in the comments below.