The man and the scientific publishing giant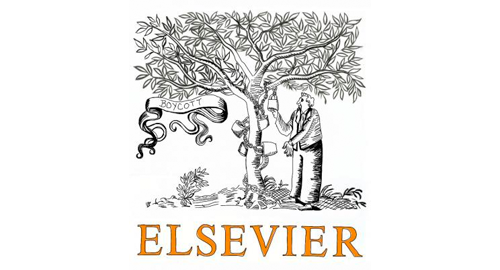 In an attempt to secure and protect unbiased Open Science in Europe our team member, palaeontologist and Open Access activist Jon Tennant has taken another stand against Elsevier.
Elsevier is the biggest and most influential scientific publisher and at the same time probably the most profitable business worldwide. To get an overview of the cascade of events and some background on the story, read the following articles:
Tennant J (June 28, 2018), Elsevier are corrupting Open Science in Europe, The Guardian – Elsevier – one of the largest and most notorious scholarly publishers – are monitoring Open Science in the EU on behalf of the European Commission. Jon Tennant argues that they cannot be trusted.
As a response, Nick Fowler posted a derisory response on their own website:
Fowler N (July 2, 2018) Elsevier serves the global research community to deliver open science, Elsevier website – Jon Tennant's June 29 Guardian article raises fundamental questions about open science while conveying misinformation about Elsevier's role
To address the false accusations, Jon in return published a detailed response on his own blog:
Tennant J (July 3, 2018) Elsevier serves the global research community to deliver open science? Green tea and Velociraptors – This article is a response to a piece written by Elsevier in response to an opinion piece I published in The Guardian, concerning the involvement of Elsevier in the European Commission's Open Science Monitor. Comments from Elsevier are provided in italics, and my responses to them are in bold.
Tennant J (July 6, 2018) Response to President Paul Hofheinz of The Lisbon Council regarding Elsevier and the Open Science Monitor, Green tea and Velociraptors – What a mess. The story so far: On June 29, I posted this opinion piece in The Guardian expressing deep concerns with Elsevier as the sole contractor for the new European Commission (EC) Open Science Monitor.
Tennant J et al (Oct 2018) Annotating the response from the EU_Commission to the inquiry about their Open Science Monitor, in preparation for a formal reply, and would love as many people as possible to join in! https://hyp.is/…Annex-to-letter-to-Jon-Tennant-1–BbPfR.pdf …
Depending on how this wordy battle continues, we might keep you updated here. Feel free to form your own – informed – opinion and decide for yourself where and how (hint) you want to publish in the future.
Background context
Online Petition: The Cost of Knowledge – More than 17k Researchers Taking a Stand. See the list
Buranyi S (June 27, 2017), Is the staggeringly profitable business of scientific publishing bad for science?, The Guardian – "It is an industry like no other, with profit margins to rival Google – and it was created by one of Britain's most notorious tycoons: Robert Maxwell.
Kwon, D (July 17, 2017), Major German Universities Cancel Elsevier Contracts, TheScientist – These institutions join around 60 others that hope to put increasing pressure on the publishing giant in ongoing negotiations for a new nationwide licensing agreement.
Grönvall, K (May, 17, 2018), Agreement with Elsevier cancelled, Swedish University of Agricultural Sciences – The current agreement with Elsevier has been effectively cancelled from June 30 2018. It is the first time the consortium cancels an agreement of this magnitude.