ZBW Mediatalk interview about AfricArXiv and language diversity in Science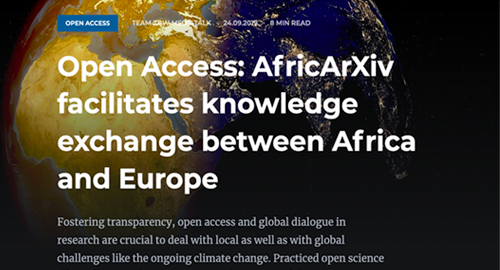 The following interview was originally published at zbw-mediatalk.eu and licensed under Creative Commons BY 4.0.
Enjoy the read!
Fostering transparency, open access and global dialogue in research are crucial to deal with local as well as with global challenges like the ongoing climate change. Practiced open science allows for more diversity in research output and the convergence of the global scientific community. We talked to Johanna Havemann and Justin Sègbédji Ahinon on how open science can overcome barriers and strengthen global and local knowledge communities at the same time.
We were talking with Johanna Havemann and Justin Sègbédji Ahinon.
North-South dialogues and collaborations are of high relevance for the development of open science. AfricArXiv is a preprint repository established to allow African scientists to publish their manuscripts in several African languages including English. Justin Sègbédji Ahinon and Johanna Havemann are members of the AfricArXiv steering committee and tell us why this is a great opportunity for developing countries to collaborate with researchers globally.
What advantages does open science have for international collaboration and what challenges still need to be tackled?
The open science movement is already paving the way we are communicating about research outcomes globally and in the digital age. The vision and mission of open science is nothing new but all about good scientific practices every scientist should and most probably wants to comply with. What is new is the digital context we work in today and the urge to countering the imbalance we find ourselves in with for-profit corporate scholarly publishers that charge skyrocketing fees for article submission and later for access to the peer-reviewed articles after publication.
What still needs to be worked on is the active inclusion of academic voices from the various parts of the world. This is essential to be able to build a global infrastructure for open science practices that not only works for selected European and Northern American scientists but one that enables a balanced global scientific discourse across world regions, language barriers and disciplines. Open science can be a catalyst for that, but we need to invite and encourage key academic stakeholders around the world including national educational ministries, grassroots initiatives for open access and open data and other stakeholders.
What challenges does research in Africa face?
Among the main problems faced by African researchers are those related to the costs of accessing content in indexed journals, as well as institutional restrictions on content provided by university- or institute-based journals. African researchers have frequently denounced the obstacles they face to access scientific knowledge: several journals and articles are not indexed in the main databases and the high cost of journal subscriptions pose sincere financial barriers.
Many African journals do not meet the recommendations and requirements to be listed and indexed in major academic global databases, such as DOAJ, Scopus or Web of Science. This leads to the fact that content produced in these countries is not accessible even to people living there, since they rely on online databases to find relevant academic content or papers. Other barriers such as scarce funding for research, limited access to scientific content therefore affect the quality of research produced by African researchers and also the opportunities for collaboration that they could have.
Internet connectivity is also one of the major barriers as it remains very low across wide regions on the continent.
Consequently, there is currently a bias on the contribution from African researchers to global scientific production, which is due to the lack of visibility of the content that is produced on and about the continent. Even though there are a number of scientific publication platforms and journals, these are either not well known or not sufficiently visible. Open science is a promising vehicle to reduce or even eliminate this bias in the long run.
Within the past three years, numerous services and platforms have emerged that provide more visibility and higher engagement for African scientists globally, such as pan-African preprint repositories like DICAMES (link in French language) and AfricArXiv as well as open access journals specifically targeting African research such as AAS Open Research and Scientific African, open access initiatives and platforms, to name a few.
Open science can — and is already — completely changing the way research and scientific content are perceived, produced and disseminated across Africa. With multiple grassroots initiatives and online services that are now available they come together as a new academic infrastructure globally and also for African stakeholders. The content produced by African researchers will thus be more easily accessible to people on the continent. Then, these contents will be more visible on a global scale as they are being made available through databases such as BASE Search, Open Knowledge Maps and Google Scholar. Open science also means more — and much easier — opportunities for African researchers to collaborate with other researchers on the continent and in other parts of the world.
What is AfricArXiv and what is special about its services?
AfricArXiv is a free and open source digital archive for research in and about Africa. It is part of a set of open access repositories powered by the Open Science Framework (OSF) project management repository which is run by the Center for Open Science.
Our main goal with AfricArXiv is to make research content produced in Africa more visible. In addition, there are a number of other objectives that we wish to achieve, such as promoting the use of local African languages in science, bridging between anglophone and francophone research output, popularizing the concept of open access publishing on the continent, as well as highlighting the relevance of indigenous and traditional knowledge in a research context while at the same time protecting the collective intellectual property of indigenous peoples.
On our website we are compiling resources of African research content and work with other African and non-African institutions and initiatives such as the African Open Science Platform, AfricaOSH, INASP / AuthorAid, TCC Africa, IGDORE, the Open Science MOOC as well as outlets and repositories with African content.
How is AfricArXiv being organized?
Since our launch in June 2018 AfricArXiv is purely volunteer-driven with a small team of dedicated individuals and experts that are passionate about contributing to a thriving open science ecosystem on the continent. Initially founded by Justin Sègbédji Ahinon from Benin and Johanna Havemann, based in Germany, we have reached out via Social Media to build the team, steering committee and follower-base.
We have academics in our team who are in charge of the submission moderation process and check for the quality of the research presented and a small team that is responsible for PR and collaborations. We are reaching out to individuals and institutions to collaborate and partner up with and are learning a lot along the way. We also participate and present our work at relevant international conferences in Africa and Europe.
What are your experiences with this platform so far?
Our core service is the hosting of preprints and other formats of research output preferably by African scientists but also non-African scientists who do research on Africa-related topics. We are counting more than 60 accepted submissions to date and — as the word spreads — expect this number to rise steadily over time. The feedback we get on our website and the growing repository is 100% positive so that keeps us motivated to continue working on it. We are looking into opportunities to ground AfricArXiv onto financial sustainability so that it can have a strong base in a growing Open Science infrastructure for the African continent
The language aspect is something we are still working on. It turns out that it is not easy for authors to make the extra effort of translating their abstract or even the whole manuscript to a local African language, French or English on top of their submission in one language. Additionally, many traditional African languages are purely oral — so we will need to add an audio feature to the repository.
We recently launched our interactive map where people can see where on the continent a study was undertaken, which authors from which institutions were involved. Some studies were run with an international team which is why some connections reach to institutions in other parts of the world. We also map research institutions by country and non-African institutes with a focus on African studies, for instance in Sweden and the Netherlands. This virtual map allows for a playful engagement with the topic and our content on the repository.
What are other possibilities to reduce language barriers?
The digital age not only provides for great chances and opportunities for open science but also machine translation has improved to a great extent in the past five years. Online services like Google Translate and DeepL are nowadays of surprisingly high quality. Of course, humans still need to double check the accuracy of the content in either language, especially as it concerns the many small and delicate details in scientific reports. There is also the option for a whole new service industry of professionals to translate scientific content.
We are very optimistic about the digital age and the opportunities it brings to the African continent to be able to efficiently collaborate on a global scale and advance research and innovation as well as allowing African stakeholders to actively contribute to solving the severe global challenges we all are facing with: climate change, conflicts and migration. Apart from that it should for the most part be enjoyable to conduct regional as well as international research, irrespective of where on this planet your team is based and open science provides for that, if we build the infrastructure for it in a concerted effort.
To conclude, we want to highlight the opportunity for the readers to read and sign their names on the "Ten African Principles for Open Access in Scholarly Communication" that we postulated together with some of our partners.
---
Link to original article: zbw-mediatalk.eu/2019/09/open-access-africarxiv-facilitates-knowledge-exchange-between-africa-and-europe/