Open Science Online Training package for African scientists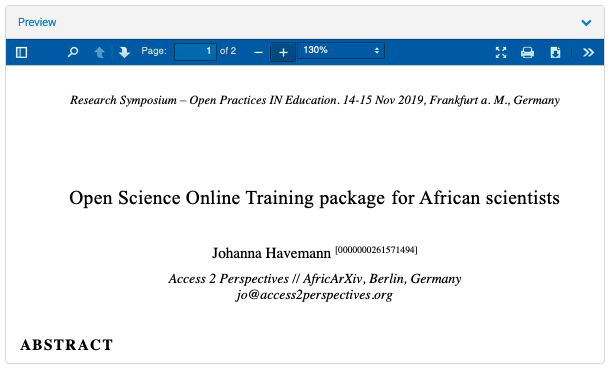 AfricArxiv is a free, open source and community-led digital archive for African research output in the form of a non-profit open source platform for African scientists to upload their working papers, pre-prints, accepted manuscripts (post-prints), and published papers as well as associated data packages and article versioning. AfricArxiv is dedicated to enhance and open up research and collaboration among African scientists and non-African scientists that work on African topics.
We aim to choose a platform (Eliademy, Moodle, or other) to allocate resources and training materials for African scientists to familiarize themselves with possibilities and existing options to present, disseminate and discuss their research output in a licensed, Open Access and career-benefitting way. The course content should be available in English, French, Arabic, kiSwahili, and other traditional African languages through machine translation and manual adaption. Content materials should be adaptable over time to ensure up to date information.
Cite as: Havemann, Johanna. (2019, November 13). Open Science Online Training package for African scientists. Open Practices in Education (OPINE) – Research Symposium,, Frankfurt a.M., Germany. https://doi.org/10.5281/zenodo.3540835